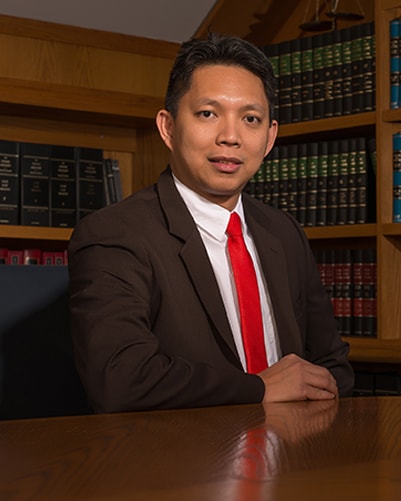 Marlowe Maquiling
Contact Marlowe
Marlowe joined Gurevitch Burnham Law Office as a corporate assistant in the summer of 2012. In 2016, while working full time in such capacity, he successfully completed the equivalency examinations set by the Federation of Law Societies of Canada to foreign law graduates/practitioners wanting to practice law in Canada. Immediately after, he was promoted as the firm's articling student and completed the Alberta Bar Admission Program in 2017.
His areas of supervised law practice include general civil litigation and family law. In the future, he foresees adding real estate and corporate law. Prior to joining the firm, and subsequent to obtaining his law degree, Marlowe worked in a legal department in one of the government agencies in the Philippines. In addition, he was a professorial lecturer at some universities in Manila, Philippines, fully utilizing his Bachelor of Arts in Political Science and Masters degree in Public Administration.
Marlowe is a member of the Grande Prairie Bar Association. Likewise, he is an officer of the CCMCL Grande Prairie, a Filipino association organized to advance the interests of the Filipino community in the City. In his spare time, Marlowe is content in hanging out with his loving wife and adorable daughter, enjoying the outdoors.