Gurevitch Burnham Law Office Offers Alternative Legal Services During The COVID-19 Pandemic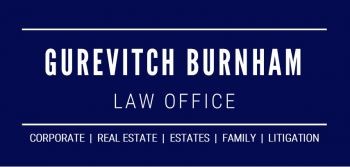 We are experiencing a time of increased uncertainty. The COVID-19 pandemic and the required community response to slow the spread of the virus has caused significant disruptions to our lives, businesses, jobs and our governmental systems. Of particular concern is the severe reduction of available Court time. Currently, all levels of Court are only hearing some criminal matters and emergency civil applications.
The reduction in Court time means that there will be many civil actions and family law claims that will not be able to get before the courts for many months. The Court of Queen's Bench will not resume hearing cases at least until May 1, 2020, and the Provincial Court is not booking until May 22, 2020. We anticipate that when the Courts do begin hearing cases again, the backlog caused by this shut down will extend the already lengthy wait times to get matters into Court. The loss of access to the Courts will likely become an access to justice crisis.
Also, we know that there will be health impacts and many economic impacts as well. There are already many businesses experiencing disruptions, and many people have increased uncertainty about their jobs, companies and finances generally.
At Gurevitch Burnham Law Office, we want to do our part to assist our community as we try and navigate these uncharted waters together. To that end, Gurevitch Burnham Law Office will provide Arbitration & Mediation services while Courts shut down. As an alternative to waiting for Court to resume, we can provide Arbitration, Mediation and Negotiation services to help people obtain quicker resolutions of their disputes.
Arbitration is perhaps the most popular and widely known dispute resolution process. Like litigation, Arbitration utilizes an adversarial approach that requires a neutral party (the Arbitrator) to render a binding decision. Arbitration has been used widely in commercial disputes as a private alternative to litigation. However, it is now commonly used to settle other conflicts such as family disputes, estate disputes and other civil disputes.
Unlike litigation, Arbitration generally allows the parties to design most aspects of the resolution process to suit their needs and the nature of the conflict. Further, the parties to an arbitration can choose the Arbitrator, an option that is not available in the traditional court system. Both of these features permit the parties to have a much quicker resolution of the matter.
Mediation is a widespread dispute resolution process that helps parties in a dispute come to their resolution. Unlike litigation and Arbitration, Mediation utilizes a neutral third party to create a process that the parties can use to work their way through the dispute on their terms and come to a mutually beneficial agreement. Meditation is a highly effective way of resolving disputes.
Mediations have historically been used primarily in small civil disputes and family matters. However, it is now commonly used to resolve all types of disputes ranging from complicated business disputes to highly contested family law matters. While Mediation is a form of alternative dispute resolution, it distinct from arbitrations in some fundamental ways, most notably that the Mediator has no power to make decisions for the parties during the Mediation. Decision making rests solely with the parties themselves.
Arbitrators at Gurevitch Burnham Law Office:
Civil Matters
Timothy J. Burnham
Colleen Jasnich (non-lawyer)
Cyril S. Gurevitch, Q.C.
Family Law Matters
Timothy J. Burnham
Patrick L. Wilson
Robert J.N. Peters
James P. Bird
Mediators at Gurevitch Burnham Law Office:
Civil Matters
Timothy J. Burnham
James P. Bird
Patrick L. Wilson
Family Law Matters
Timothy J. Burnham
Patrick L. Wilson
James P. Bird
Thank you,
GUREVITCH BURNHAM LAW OFFICE
Timothy J. Burnham