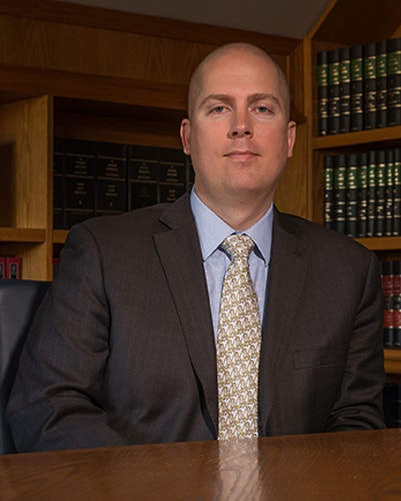 Timothy J. Burnham


B.Comm, LLB
---
Partner, Mediator
Contact Timothy
Tim is the President and managing partner of Gurevitch Burnham Law Office.
Tim's first degree was a Bachelor of Commerce degree from the University of Alberta, where he majored in management and organization and minored in marketing. He graduated with distinction in 2003. While completing his business degree, he spent 3 years working in a commercial real estate brokerage in downtown Edmonton. Tim then went on to complete a law degree at the University of Alberta, from which he graduated in 2006. While in law school, he worked as a residential Realtor for 3 years. These experiences gave Tim valuable knowledge relating to both commercial and residential real estate transactions, which he uses to help the firm's clients achieve the best results possible in their real estate transactions.
Upon completion of law school, Tim and his family moved to Grande Prairie in 2006 and he started working at this firm. During his first few years practicing law, he focused primarily on family law and civil litigation, gaining a great deal of experience in these areas and becoming qualified as a mediator and collaborative family law lawyer. More recently, Tim's practice has shifted from what was primarily litigation to more of a solicitor practice. For many years now he spends the majority of his time helping clients with corporate matters, estate planning and estate administration, and residential and commercial real estate transactions. His family law practice is limited and primarily focuses on mediations and high net worth matrimonial property divisions.
Tim uses his experience as an entrepreneur and from his bachelor of commerce degree to work with his corporate clients to find innovative and practical solutions to their challenges. He enjoys working with businesses of all sizes in helping them grow and manage their legal risks. Tim also uses his experience as a realtor in helping his clients to achieve their real estate goals, whether residential, investment, commercial, or agricultural.
Tim also credits his early experience in litigation in allowing him to provide a range of strategic options for clients who are trying to effectively manage business concerns, deal with estate issues, or real estate transactions. His approach is flexible, and he strives to use all of the tools that are available to assist his clients in achieving their goals through negotiation and sometimes through litigation.
Education
Bachelor of Commerce, University of Alberta (2003)
Bachelor of Laws, University of Alberta (2006)
Real Estate License, Real Estate Council of Alberta (2004)
Registered Family Mediator, Alberta Family Mediation Society (2011)
Collaborative Family Law Lawyer, Association of Collaborative Professionals (Edmonton) (2011)
Community Involvement
Chair of the Grande Prairie Music Parents' Association
Director of the Grande Prairie Public School District Education Foundation
Counsellor in the Grande Prairie Alberta Stake Presidency (Church of Jesus Christ of Latter-Day Saints)
Past Chair of the Canadian Mental Health Association (Grande Prairie)
Past leader for Scouts Canada
Past volunteer for Church of Jesus Christ of Latter-Day Saints in Russia
Professional Associations
Member of the Law Society of Alberta
President of the J. Reuben Clark Law Society, Grande Prairie chapter
Member of the Canadian Bar Association
Member of the Grande Prairie Bar Association
Former Council Member of the Canadian Bar Association (Alberta)
Former member of the Alberta Arbitration and Mediation Society
Former member of the International Association of Collaborative Professionals
Former member of the Alberta Civil Trial Lawyers Association
Lecturer in the City of Grande Prairie in the areas of Real Estate, Family Law, Wills, Estates, Estate Planning, Personal Directives, Enduring Power of Attorney and debt collections
Lecturer for CBA (Alberta) Savvy Lawyers Series on "What are my fees, and is it any of your business?" - A thought-provoking look at how we price legal services and why it matters to the business of law
Lecturer for Grande Prairie Regional College Business Conference